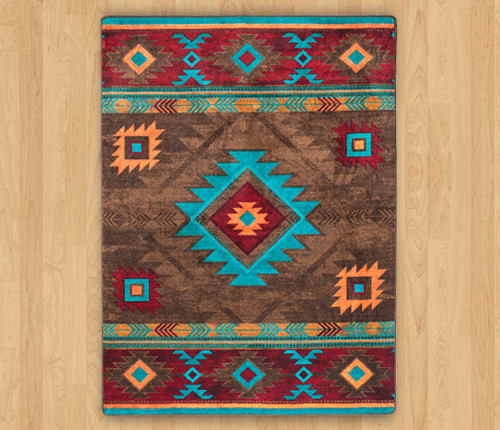 Where To Start: Southwestern Rugs, Western Rugs, Native American Rugs
I had to ask myself multiple times why this seems so important. What about the lantern sitting on my coffee table and the black and white striped table runner, mean to me. Does it have meaning? I believe it does because time did a backward cartwheel and took me to being twelve years old, living back with my parents. Being the twelve-year-old, who got a new seventeen magazine once of month. I remember tearing pictures of Nick Jonas out, not to hang on my walls but to fold up and look at when I would polish my nails. The glory days when I lived vicariously through my Bratz dolls and their over-sized party bus.
I remember one of the most important decisions I had to make at twelve years old, what color to paint my room. Paint is a snippet of your personality reflected by different color waves that make the eyes do the hustle.  I had a white princess bed, so my parents wanted me to choose a color to compliment my beautiful bed with a sky blue canopy. They brought home swatches for me to chose, and the one that jumped out was this beautiful eggplant color. I decided on that color, and I never looked back. So why is this important to the prompt? Ever since I was twelve, I always wanted the HGTV dream home or Pinterest inspired living room. Decor has and still is a huge 695 square foot reflection of my personality today. The reason behind the wheat stems in a wicker vase or the two metal wall galvanized hung across from one another to create symmetry without dysfunction. Sometimes I say to myself, "what would twelve year old me do?"
Area Rugs Can Be The Foundation of Your Home Decor
Decor is portrayed as a since of Art. It is when one's self can express their creativity and emotion. Not only that, it is what shows one's personality. It all begins with one style or design one life, and it all goes from there. Decorating your house, apartment, room, office, car, etc., helps express who you are. You can tell a lot about one's personality through their personal style. You want to feel comfortable in a particular setting that best fits you, and no matter where you are at, you can add a piece to make you feel more at home. One thing that really seems to help me has been adding Native American, western and southwestern area rugs to my home.
One particular moment in my life was decorating has made a major impact on my life, was the day that I moved into my college dorm. I was getting ready for my first semester of freshman year this last August, and I wanted to make myself feel more at home in a new state and new school. I was able to incorporate my sense of style, elements, and personality into my decorations for my dorm room. If my dad was the one that decorated my room for me, I would not be able to feel at home or comfortable in my own room that I will be spending the next four years in. I want to put my sense of style so that I can be able to feel comfortable in a new environment. It is very important to express your personality though decorating, because without it, how else would others know your own sense of style and see who you truly are.
Not only do you want to express your own personality, but it is also good to incorporate others, to brighten your horizons and express others too. You get to incorporate certain colors such as warms and cool, even get to mix and match, to best fit you. You get to incorporate different textures and style to accompany your decorations. It is so much fun and interesting to see what all you can do to your liking's. Decorating has not only helped me find myself and sense of style but was gotten others to see a sense of another personality traits that they never knew before.